Happy New Year Party Meatballs! You have plenty of time to prepare these for New Year's. And if you missed this post, make 'em for the weekend. May you have a happy and prosperous New Year.
Ingredients (Recipe can easily be doubled)
2 pounds of ground beef
2 eggs
1/2 teaspoon salt
1/4 teaspoon ground black pepper
1 12 ounce jar of chili sauce
1 teaspoon of lemon juice
1 jar of grape jelly (10 ounce size)
Directions
Mix the first four ingredients together with a fork. (Try not to compact too much). Shape into balls about 1 1/2 inches in diameter.
Combine chili sauce, lemon juice, and jelly in a bowl and mix. Pour into a casserole dish and add meatballs.
Cover with foil and bake at 350° F. for one hour, remove foil and cook an additional 30 minutes.
For your party, serve these hot with party toothpicks in them.
Easy, huh? They've never failed me yet.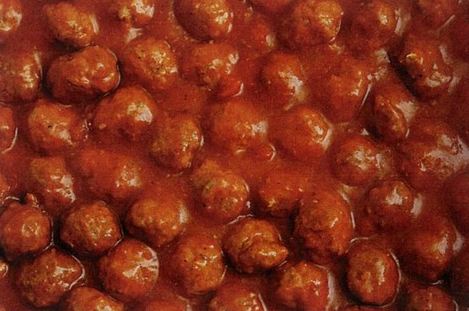 Or, don't forget my hearty and even easier Crockpot Meatballs.
© Wade Kingston