"Wade's Spaghetti with meat sauce and garlic bread" post is in response to the many requests I get for my recipe. Since I'm a lazy person at heart, now I can just refer them to this post and be done with it.
I am not Italian–far from it. My family is composed of various English, Irish, Scottish, and German ancestors. And I've heard tell of a Cherokee Native American in the woodpile, but then every other person in western Kentucky makes the same claim. I personally don't believe there were that many Cherokees left around here. But I could be wrong.
But not being Italian does not prevent us from doing our level-best to Americanize that most Italian of dishes–spaghetti with meat sauce and garlic bread. My version is NOT subtle. If you don't like garlic and onions, you won't like it. And I'm leaving out the salad here and saving that for another post. (It's good, though, if I do say so myself).
Ingredients (Sauce)
1 large can of whole tomatoes, broken into pieces (at least 18 to 20 ounces, or two cups)
1 large can of tomato sauce (same size as tomatoes)
2 medium onions, chopped
5 cloves of garlic, chopped
12-15 fresh mushrooms, sliced (optional)
2 lbs. fresh ground beef or chuck
2 tablespoons Italian seasoning
olive oil–enough for sauteing onions, garlic, and mushrooms
1 tablespoon garlic powder
pinch of sugar (optional)
Directions:
Begin by sauteing onion in olive oil until nearly translucent. Add chopped garlic and mushrooms and cook for two minutes more. Add all tomato products and give it a good stir. Add two tablespoons of Italian seasoning, and one tablespoon of garlic powder. (Add a pinch of sugar if you like–I don't). Bring to a boil and reduce to low and let simmer for one hour. (You may add a bit of water if the sauce appears too thick–it can vary).
Meanwhile, cook the hamburger or ground chuck meat until no longer pink. Try to leave hamburger in large chunks, since the hamburger has a tendency to fall apart in the sauce. I like my sauce meaty, not runny. Drain the hamburger and add it to sauce after one hour. Cook on low for one hour more, stirring only to prevent sticking. Turn to lowest setting on stove and keep sauce hot.
Garlic Bread (you can buy your favorite bread ready-frozen, but here's how I make it).
For garlic butter:
1/2 stick butter (room temperature)
1/4 cup olive oil
1 cluster of fresh garlic (roasted until soft, remove skins)
1 teaspoon of garlic powder
1 teaspoon of Parmesan cheese
1/2 teaspoon Italian seasoning
You mix all those ingredients well (don't put in blender or it will pulverize your spices) by hand until you have a soft paste.
Take a fresh loaf of Italian or French bread (I also like Ciabatta, Texas toast, hoagie rolls, and even sourdough) and slice into one-inch-thick pieces. Generously slather on the garlic butter spread. Toast in oven on 425 for about 7 minutes or until desired toastiness.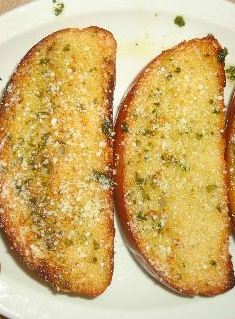 That's about it. Cook spaghetti according to package directions and add the meat sauce and put garlic bread on the side. And that's all there is to Wade's spaghetti with meat sauce and garlic bread. Big secret, huh?
Yum, yum. I think I'll go eat some now. Ciao!
© Fried Red Tomatoes
Check out my other blogs at:
© Wade Kingston