Knoth's Amazing Barbecue Followed Me Around the South
It was always there. On the 4th of July, Memorial Day, family reunions—even Thanksgiving and Christmas. We had other food on those occasions, but a genuine hickory-smoked shoulder from Knoth's was the prized chunk of goodness on the table. The one that made us go "ah."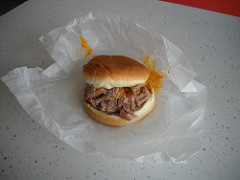 We eagerly gathered around when it was brought in—still wrapped in the white butcher's paper—hot from the pit. We stood smiling with buns open on our plates. It's no exaggeration to say we salivated as the paper was unwrapped, finally revealing the crusty brown skin and that Heavenly aroma.
Some wanted a fatty part, some wanted crispy crust, and some only lean. I wanted some of it all. I would grab the tongs and tear off a tender piece of moist pink, then stick some crispy skin and hot fatty parts on top. Drench it all over with half mild sauce and half hot. Mmm, unbeatable.
It's no secret that we are blessed with great barbecue in our area. There are many award-winning restaurants here, and even more "backyard barbecuers" proud of their own methods. Your own favorite is most likely due to what you grew up eating, more the closeness of a restaurant than to its actual product. And in truth, there's probably no such thing as "bad barbecue," at least not in western Kentucky. But there are differences.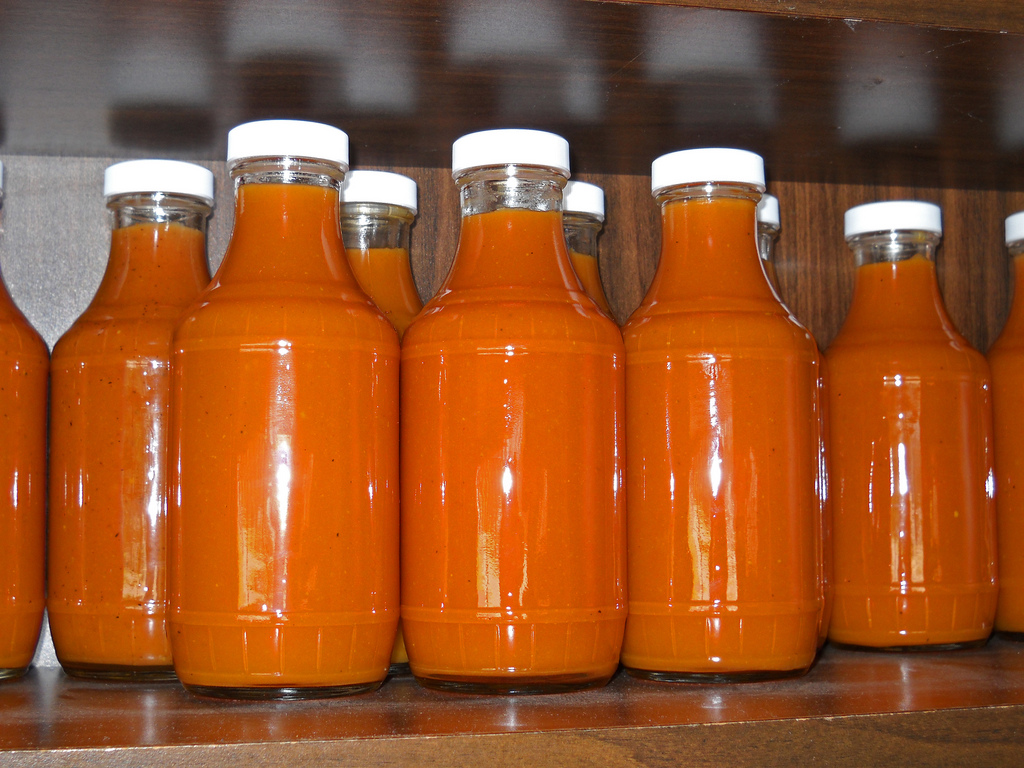 I don't claim to know what makes Knoth's barbecue so outstanding. I've known Hugh Edward Knoth many years, and all I know is that he buys quality pork and smokes it using hickory wood. Beyond that it's a mystery to me, and that's part of its appeal. We all want to think there's more than a little magic in what Hugh was able to create, especially since he did it for so long and so consistently.
I left Kentucky in the late 1970's, and I guess I just assumed I would be able to get great barbecue when I moved to Roanoke. I wouldn't miss Knoth's. Wrong on both counts. Not to belittle Virginia food (which is astonishingly good, take my word for it), but there was no barbecue there to equal Knoth's. I know. I looked. And looked.
Back in Kentucky, Mom worked for Hugh a while, when they had the old store on the Lyon County side. She told me that once she was moving a shoulder in the kitchen and dropped it on the concrete. It couldn't be used, of course, and she felt badly about it. But Hugh came in the kitchen and said, "Oh, Mary Lou, I've dropped shoulders so many times. Don't worry about it."
That's Hugh.
The first time my folks visited me in Virginia I asked if they could bring me some of Knoth's barbecue. I think I expected maybe a pound, but they showed up with an entire shoulder, wrapped in foil and still warm. There aren't words to describe that first taste of home, just as I'd remembered. Always the same, always delicious. It's picnics and shade trees, paper plates and smiling faces—all wrapped up in one. That may sound corny, but I'm perfectly serious. When you are far from home, that's how it can be.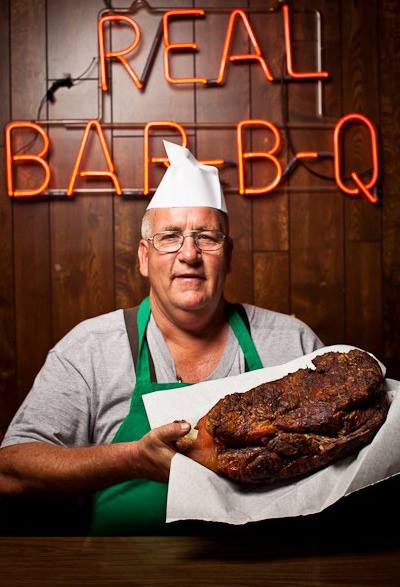 Once, while living in Roanoke, I went home for the 4th of July. I had bragged about Knoth's barbecue so often my friends in Virginia began daring me to bring some back for comparison. So I picked up a shoulder from Hugh, boxed it and checked it at Piedmont Airlines. Long story short, I flew to Roanoke and the shoulder flew to Chicago. (Fortunately, the sauce was in my carry-on.) I was fairly distressed but the airline assured me they would get it to me ASAP.  And they did, only it was frozen as hard as a brick. Undaunted, I wrapped it in foil, put it in a warm oven and left it for about five hours while I called everyone I knew. That night my friends admitted it was the best they had ever tasted. On my next visit home I told Hugh that story, which pleased him, but I would be willing to bet he's heard hundreds such stories over the years.
I had a similar experience with friends in Atlanta years later. It seems that everyone, everywhere was equally impressed with the taste of Knoth's awesome barbecue. I lost track of just how many of "Hugh's shoulders" were flown or brought directly to me over the years, but I joked with him once that I was making him a rich man.
I suppose since I've been living back in Kentucky these 25 years I've taken Knoth's for granted. Maybe we all have. It has been that one delicious staple we could count on. For wedding receptions, church socials or any other occasion that called for food. Or just a quick sandwich or plate lunch at Lake City. It was always there throughout summer. Mom always kept a calendar on the fridge with "Knoth's Opens" on that first day each spring. You all know what I'm talking about. THE DAY.
That one day in spring, that sadly, will never come again.
Update: I am pleased to announce that Hugh Edward Knoth has sold his restaurant, and will be working closely with the new owners to ensure his proud standards of fine food are continued. Congratulations to everyone involved, and may you have many more years serving up some of the finest barbecue in America.  
And Hugh, well done! From the bottoms of our hearts, your friends and patrons thank you.
© Wade Kingston