There are at least seven temporary garden hedges that are fairly easy to grow. Even though it's cold and snowy now, in just a few weeks it will be time to begin gardening in earnest. A little planning now will make things go much more smoothly come warm weather.
Temporary garden hedges perform a variety of functions:
Define a property line
Separate different portions of a garden
Accentuate a driveway or walkway
Provide shade where there is none
Provide height in a sea of low grass
Provide a display of vivid color where there was none
Hide an unsightly heating/cooling unit or gas tank
Attract a flock of butterflies or hummingbirds
There are seven annuals that I have used effectively to create these types of borders. With a little bit of pre-planning this year you can easily get results just like these photos. Sit down anytime (now is good) and create a rough sketch of your property. Where might one of these seven temporary garden hedges fit in perfectly?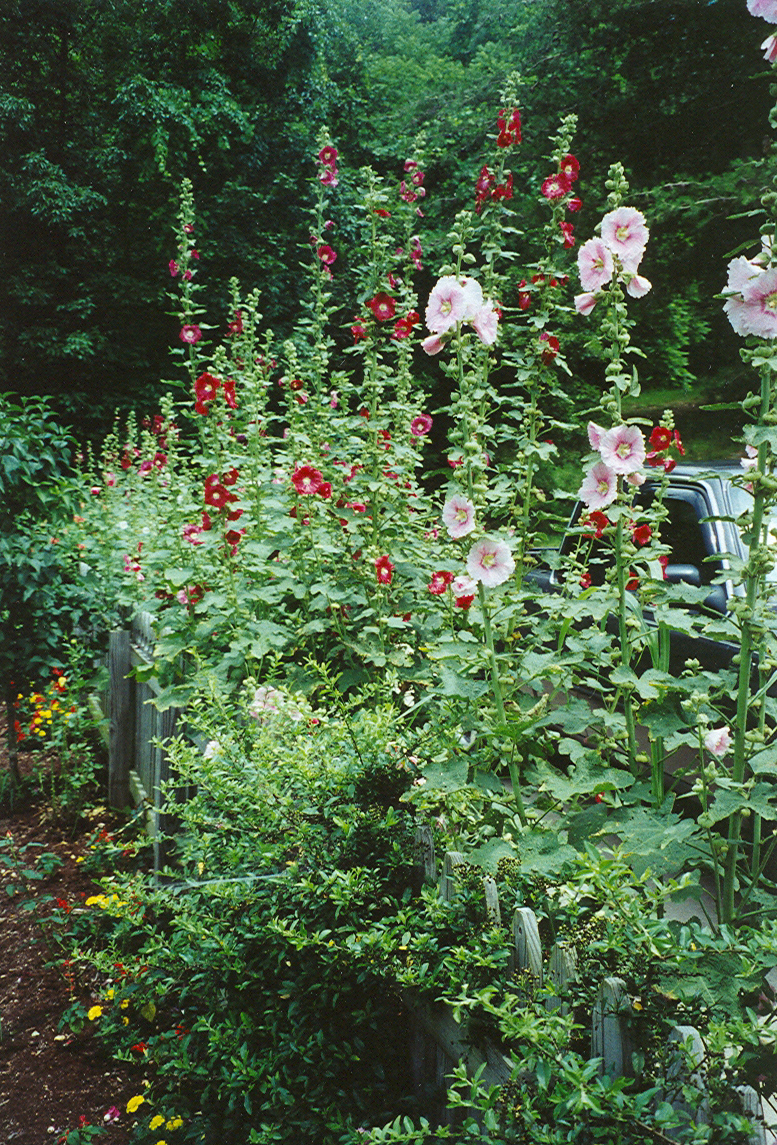 1–Hollyhocks have a number of reasons to commend them as borders. They are tall, so they create an effective screen along a driveway or against an old weathered wall. They grow thickly and crowd out other weeds. But one of their best attributes is that they self-sow. Hollyhocks are biennials, meaning they usually grow in one year and bloom in the next. But it is oh-so-easy to get them started, let them self-sow, and enjoy them each year for as long as you want. The colorful blooms on tall stalks can bloom for several months during spring and summer.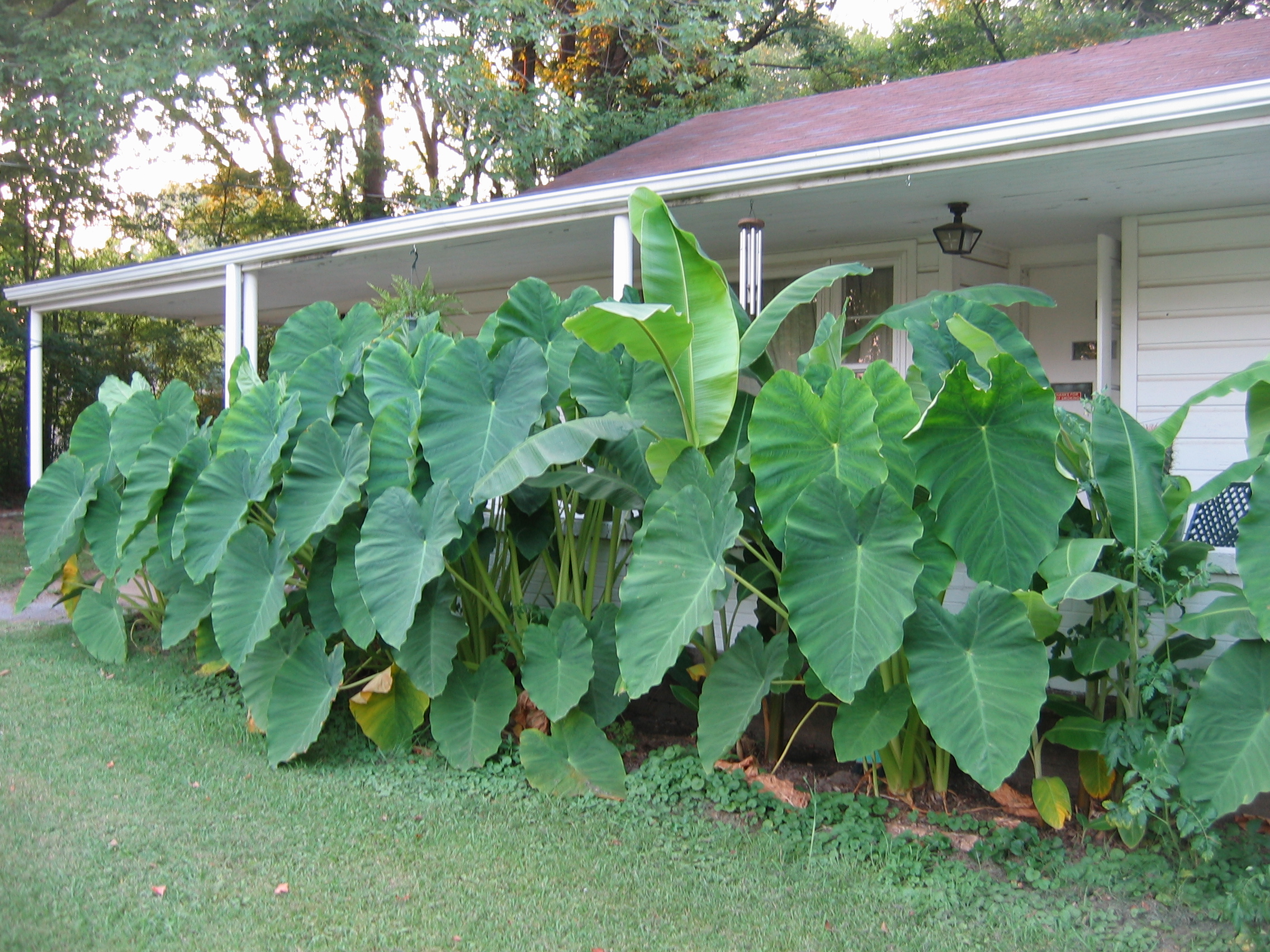 2–Elephant ears. Here is an example of how I used elephant ears to hide an unattractive porch wall. Elephant ears grow very quickly and the bulbs–though expensive initially–propagate quickly. If you mulch them heavily (or better yet, dig them up and over-winter them) you can have elephant ears for years to come. Your initial investment will pay for itself many times over. Elephants ears add a tropical flair to any garden or lawn, and they do well in shade. One of the few plants that do so. Give them adequate water and stand back!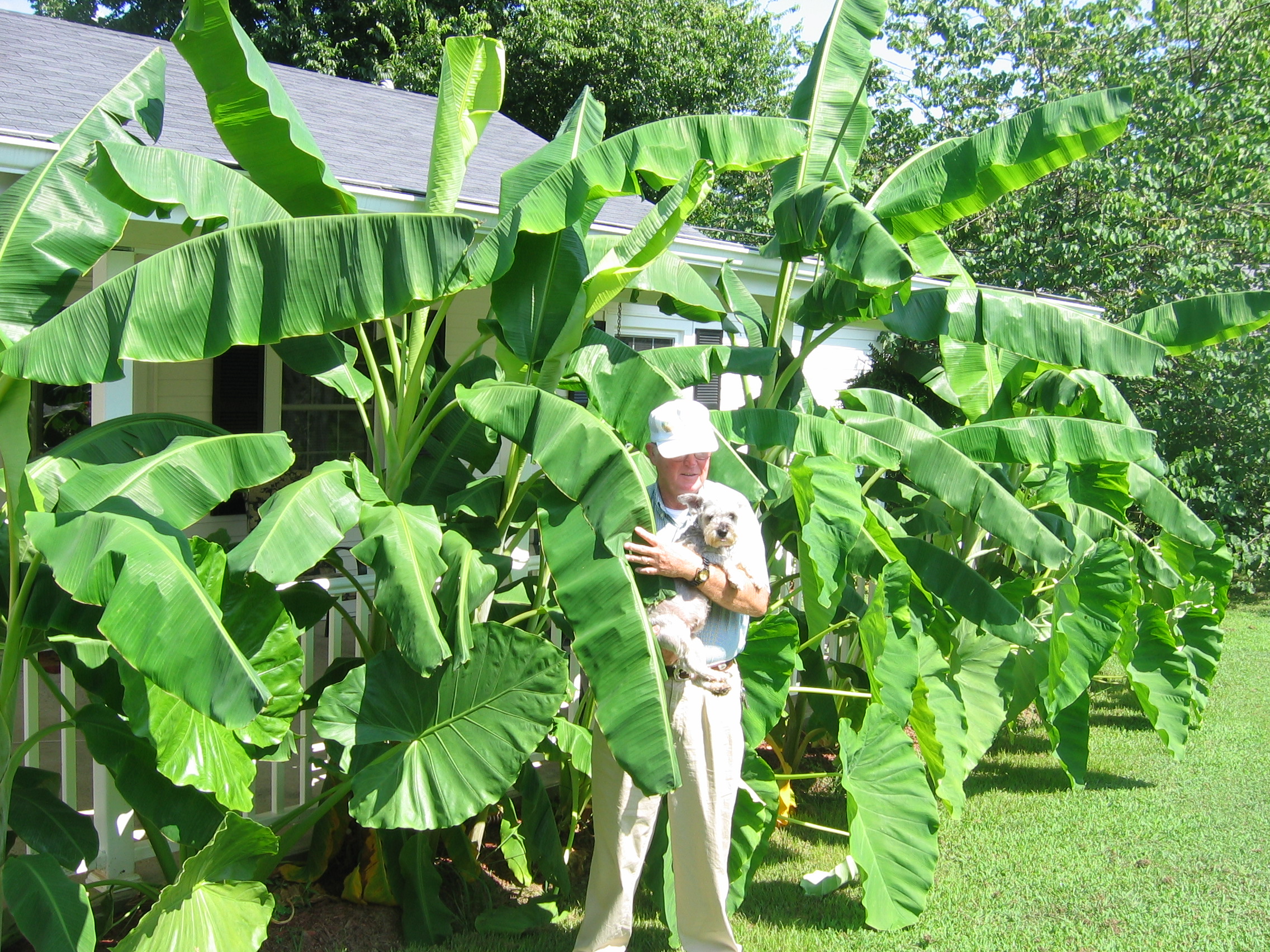 3–Banana plants. I planted the bananas in this photo for my parents. Their porch at the time faced the southwest and desperately needed some shade. With bananas (and elephant ears) you get a fast growing tropical plant whose broad leaves add a great deal of shade. Plants scrub harmful carbon dioxide from the atmosphere and inject oxygen. In addition, plants "sweat" water through a process called transpiration. Transpiration, especially with trees and larger plants, actually cools the surrounding air.

4–Liriope (monkey grass). Monkey grass–Liriope–is one of the easiest plants to use to create small formal borders. Most often used to line a driveway or walkway, it also makes effective borders at the edges of flowering gardens. Liriope is actually a perennial plant that comes back year after year, and one of its biggest advantages is how quickly it proliferates. Buy a couple of clumps from your garden supply store and break them up. Plant them sparsely in your border and in no time they will fill it in. You'll be giving away plant roots in a year or two. The grass grows to a tidy height and there's a variegated form. All have attractive lavender colored flowers that appear in mid-summer and bloom into fall. And the best part? Monkey grass grows so thickly that weeds can't get a foothold in them, literally.
 5–Sunflowers. One of my favorite hedges, sunflowers are perhaps best used in a less formal setting. Perfect in the country, or at the edges of those English cottage gardens, sunflowers can grow up to 10 or 12 feet in height, so give them room to grow. I like planting sunflowers in masses for the best effect. They tend to look spindly when planted single file in a row. They can also be susceptible to strong winds if not given support. But planted in thick groups they shade out weeds and support one another. Whatever you do, plant them where you won't mind leaving the plants come winter. Birds and squirrels dote on the dried seed heads atop these long plants. They will give you many hours of viewing pleasure.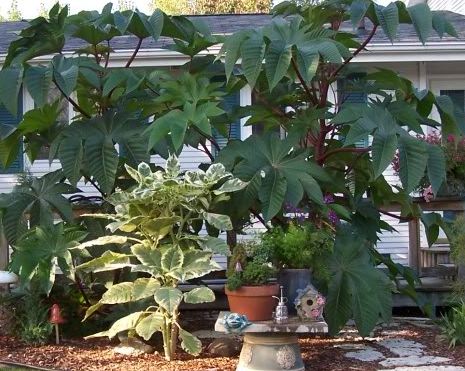 6–Castor Bean Plant. The castor bean or castor oil plant, can grow very tall and has large tropical looking leaves. If planted near a porch it can provide much-needed shade by mid-summer. It also has attractive red blossoms and produces amazing amounts of seeds. Once you plant it you will never have to buy them again. Of special note: Castor bean plants and seeds are extremely poisonous. Do not plant them if you are concerned with young children or pets getting access to them. We have always grown Castor Bean plants in my family, and it wasn't until 9/11 that I was even aware that the poison "ricin" is made from them. I had one once that grew to nearly 18 feet in height in one summer season.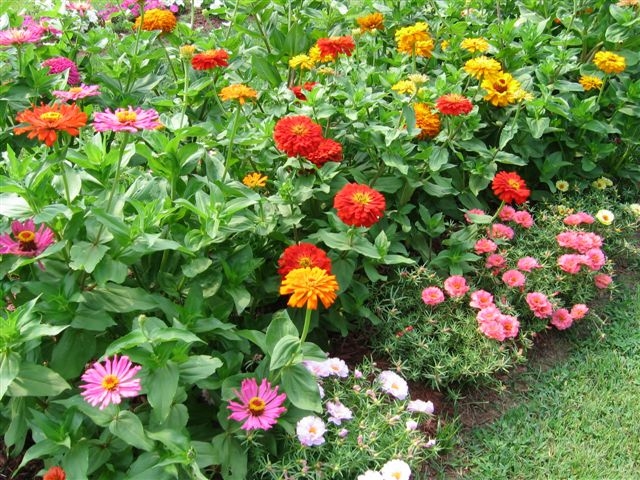 7–Zinnias. I cannot say enough about Zinnias, which have long been a staple of gardens. They come in a variety of sizes and colors, and all bloom profusely. They need no special care, other than the avoidance of water on their leaves, which promotes mildew and other fungi. Zinnias are inexpensive as they can be grown easily and quickly from seed. Though they benefit from good soil, adequate fertilizer, and water, they will survive and bloom continuously even in poor soil or drought conditions. But I saved the best for last. Zinnias make stunning and long-lasting bouquets. I've had bunches of them stay fresh-looking for ten days or more. The plants are quick to branch out and re-bloom once you've cut blossoms for bouquets. So, the more bouquets you cut, the more blooms you end up with! What's not to like?
© Wade Kingston