Homemade granola tastes good and it's good for you. Chock-full of nutritious goodies, probably the best thing about making granola at home is that you can pretty much tailor it to suit yourself. Granola with skim or almond milk makes a terrific and healthy breakfast. Or you can just eat a handful for a guilt-free snack.
(Note that the nutrition information provided at the bottom is based on my recipe. If you alter the recipe your information will change).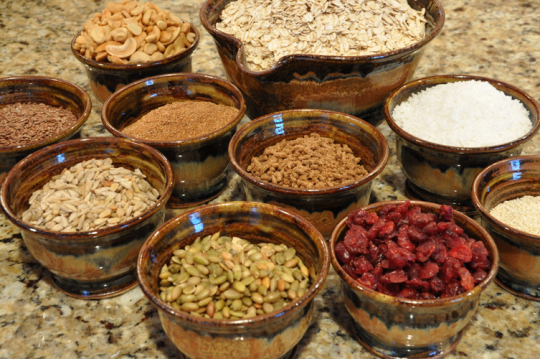 Ingredients:  (This recipe can easily be doubled)
3 cups rolled oats
1 cup slivered almonds (or sunflower seeds, etc.)
1 cup walnuts (or pecans or cashews)
3/4 cup shredded sweet coconut
1/4 cup plus 2 tablespoons dark brown sugar
1/4 cup plus 2 tablespoons maple syrup (I use only real maple syrup–it makes a difference in flavor)
1/4 cup vegetable oil (I use only a good quality olive oil, but you can certainly use any good vegetable oil)
3/4 teaspoon salt
1 cup Craisins (or raisins, dried blueberries, or dried strawberries)
Directions:
Preheat oven to 250 degrees F.
In a large bowl, combine the oats, nuts, coconut, and brown sugar.
In a separate bowl, combine maple syrup, oil, and salt.
Combine both mixtures and pour onto 2 sheet pans.
Cook for 1 hour and 15 minutes, stirring every 15 minutes to achieve an even color.
Remove from oven and transfer into a large bowl.
Add Craisins and mix until evenly distributed.
© Wade Kingston