As part of my increased enthusiasm for all things healthy, I have recently discovered that I like almond butter. I mean, I really like it. That's not to say that I don't still enjoy peanut butter, but there are definitely benefits to making your own almond butter at home. It's quite simple.
Just add a couple of cups of raw almonds (or walnuts, cashews, etc.) to your food processor and let it rip.(I don't add salt to mine, but you can if you aren't concerned about your sodium intake).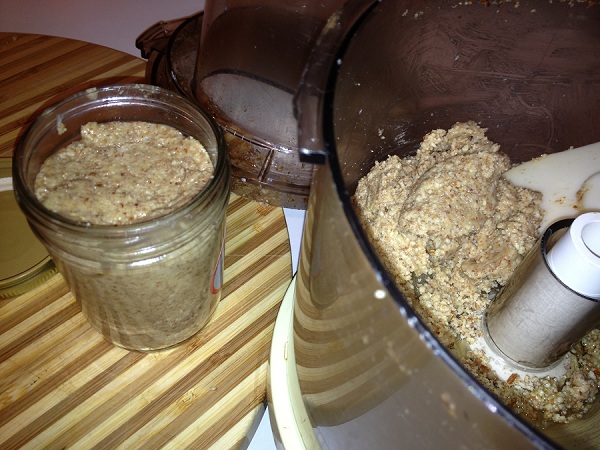 Note that the noise from the processor will be very loud until it breaks down the nuts, then after a few minutes you'll see the nuts transformed into a kind of paste.  I usually drizzle a bit of extra virgin olive oil into my food processor as it grinds away, just to make the nut paste more spreadable.
You can also use a blend of nuts, and I have read that you can toast the nuts before processing.  I'm going to try that next. Nut butters are delicious on apple slices, or you could add them to bread with a little honey. Or just eat a spoonful straight from the jar.
Here I have compared homemade almond butter with a store bought brand of peanut butter. The nutrient list is quite similar until you look at sodium and sugar. The benefit of homemade almond butter (with no added salt) is that it contains almost no sodium and zero sugar. Store bought peanut butter cannot say the same.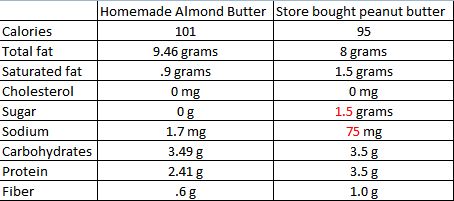 Have you tried making nut butters? What did you do that you liked?
© Wade Kingston