Here's an easy recipe I use for making tender pork chops with a savory mushroom gravy.  There's usually plenty of gravy left over to go with mashed potatoes, which is pretty much a requirement in our family.  Try it, you'll like it.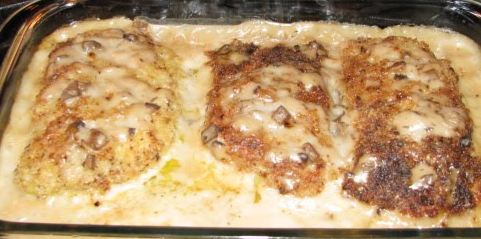 For EASY Instructions click "Read More" below.
Ingredients:
Pork chops
Cream of mushroom soup
Milk
Salt, Pepper, Flour
Oil for frying
Directions:
Lightly salt and pepper pork chops. Dredge in flour. Brown the chops for a couple of minutes on each side in hot oil. DO NOT FRY UNTIL COOKED THROUGH. Pork chops will finish cooking in oven.
Place browned pork chops in a casserole dish. Chops should be lying flat. In a bowl combine a can of cream of mushroom soup and one can of milk and stir. Pour this over the pork chops. Bake in a preheated 350° F oven until bubbly and light brown on top (30-40 minutes, depending on your oven.
Pork chops will be tender and delicious. Return to Fried Red Tomatoes and tell me how you liked them.  Thanks.
© Wade Kingston