Wade's Kentucky Bourbon Fudge is modified from a recipe that I got from someone a long time ago. You know the kind, scrawled on a 3 x 5 card and stuck in between the pages of my Better Homes and Gardens "New Cook Book." Only it didn't have pecans, and fudge just ain't fudge–in my book–unless it's loaded with pecans. (Unless you can get hickory nuts, and man, that's a whole 'nuther story right there.)
I had actually never made this recipe, because I thought it would be too much work. Turns out I was almost right. I thought my arm might drop off before I was finished, but the end result was AMAZING. I'm telling you honestly, I don't think I've ever in my life had fudge that tasted better. It's just a flavor explosion in your mouth. (And yes, I know I'm on a diet. I only eat one piece each day–for now!)
It took me way back to when my grandma stood patiently at the stove, then beat the Dickens out of the candy until it was ready. (And for you teetotalers who won't try this recipe because it has honest-to-God bourbon in it, I can only say one thing. You don't know what you're missing. Sorry.)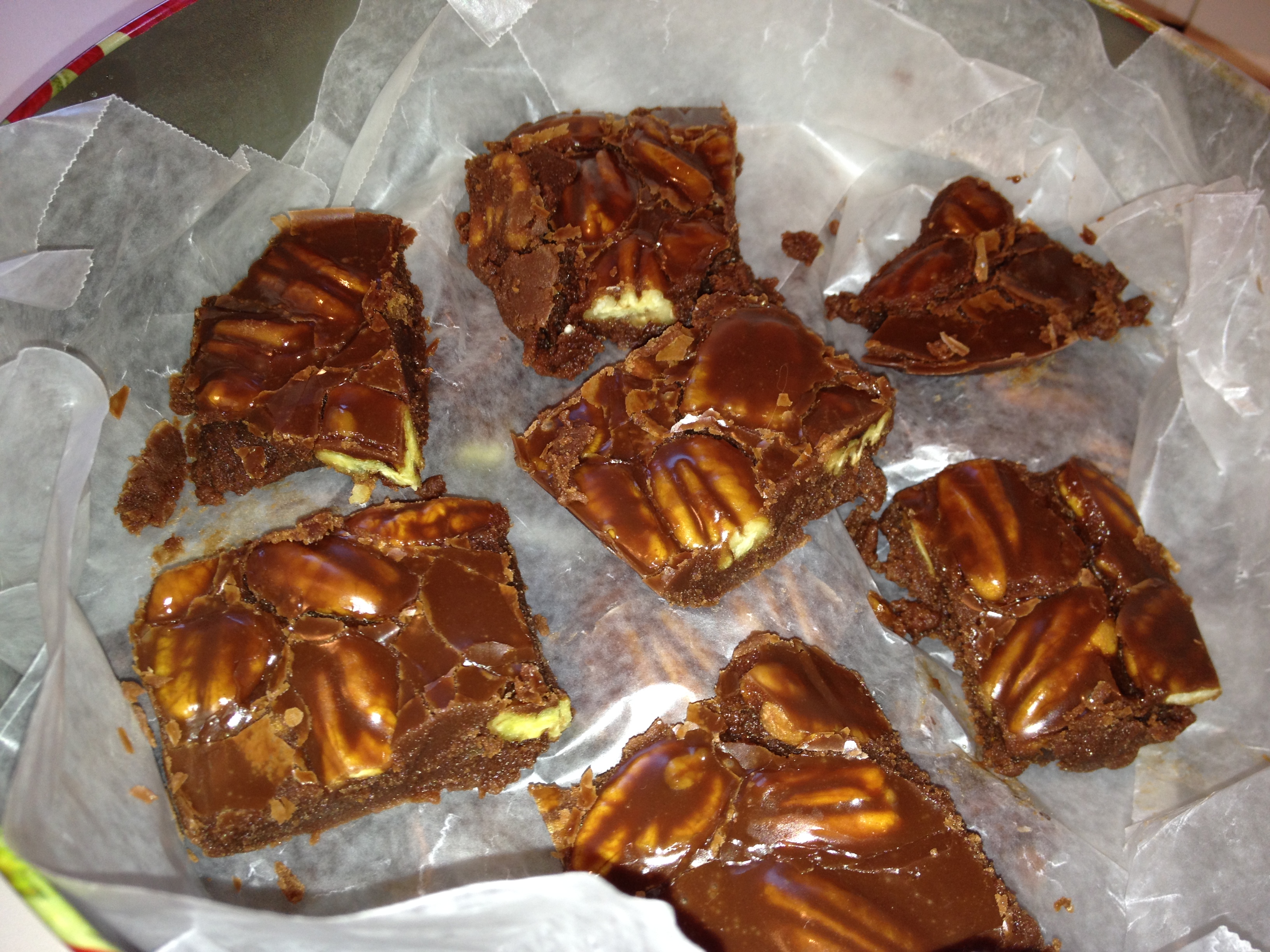 It only has five ingredients. (no butter, vanilla, or salt)
Ingredients:
4 cups sugar
4 tablespoons cocoa (powder)
2 cups whole milk
1/4 cup of good Bourbon*
1 1/2 cups of pecans (please use fresh)
Directions:
In a large, heavy saucepan mix the sugar and cocoa powder.
Add milk and stir to blend.
Bring to boil over medium-low heat. Use your candy thermometer and cook and stir until it reaches the soft-ball stage (about 235-240° F.) If you don't have a candy thermometer, drop a bit of mixture into a clean, clear cup of cold water. If you can pick it up and roll it around between your fingers without it falling apart, it has reached the soft ball stage. (But it seems like you will never get there).
When it reaches the soft ball stage, remove from heat and add the Bourbon. It will bubble violently for a few seconds. Mix it in.
Beat the mixture with a large wooden spoon until it begins to thicken. Add the pecans and continue beating until it gets so hard to stir you think you can't go any longer. Pour it into a buttered 9 x 12 dish and allow it to cool a few minutes.
While still warm, score the candy for cutting later. (Use a very sharp knife to go through the pecan mixture smoothly after it cools).
Just try not to eat every tiny scrap of candy left in the pot. I double dog dare you.
*About the Bourbon. All us Kentuckians know that Bourbon only comes from Kentucky. If its says Tennessee on the label it's whiskey, not Bourbon. I used Wild Turkey 101, but I've also been told that Maker's Mark and Woodford Reserve are excellent to cook with. Just don't use a cheap brand.
© Wade Kingston