Dad had quadruple-bypass surgery about a year ago, and last month Mom had what we suspect was a small stroke. So, I know you will understand when I say it is such a joy to spend quality time with them now, given all that's happened. I thank God every day for their resilience. Today was one of those quality days.
It began when they joined me in Paducah for the breakfast buffet at The Parlor here in Lone Oak. (It is one fine breakfast, let me tell you). I may have lost 42 pounds but I can still pack away crispy bacon on my splurge day. (They only have this breakfast buffet on Saturday mornings, but at $7.99 I rarely miss it).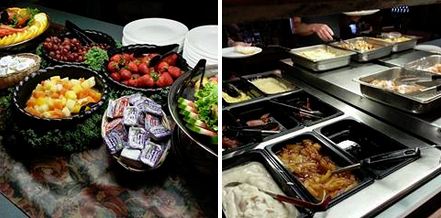 Afterwards I drove us over to Alto Pass, Illinois, to Rendleman's Apple Orchard. If you haven't been, I suggest you go! Rendleman's has a splendid array of fresh-from-the-orchard apples (orchards surround the place), as well as jams, jellies, ciders, corers, peelers–just anything and everything associated with apples. The apples are priced at very reasonable rates for 1/2 peck, peck, 1/2 bushel and bushel. Peach goods are also available.
But the pièce de résistance at Rendelman's had to be their apple doughnuts. Oh my. Fresh from an area in the back of the store, they were amazingly delicious–moist, heavy with apple flavor, and rolled in cinnamon sugar. Just a little bit of Heaven and maybe the best doughnut I've ever eaten. Period.

After loading up the trunk with Jonathons, Fujis, and Ambrosias, we took a leisurely drive to Marion, Illinois and a stop at the Marion Antique Mall. The fall foliage is at its peak in southern Illinois right now and the cypress are resplendent. They look like huge red cedars this time of year. And the sugar maples and burning bushes lit the landscape with bright red fire here and there.
We made our way back to the Paducah Mall area, where the pre-Christmas shopping is well under way. After a late veggie lunch at Cracker Barrel, they dropped me off to head to Kentucky Lake to check on accommodations for their 60th wedding anniversary next week. Sixty years married!  It's just amazing. Seems like only yesterday it was their 50th.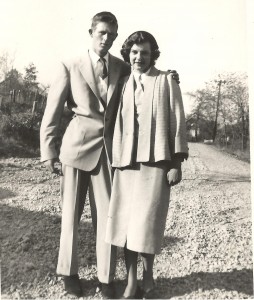 Happy Anniversary Mom and Dad!
© Wade Kingston