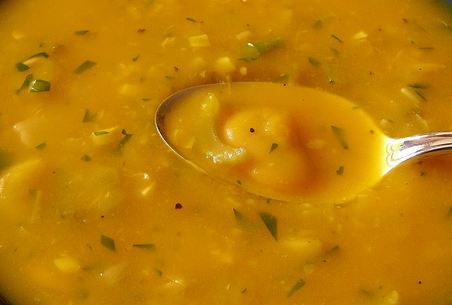 Delicious navy bean soup is both nourishing and healthy. Though some people add a bit of carrot, I find that makes navy bean soup too sweet-tasting. Each to his own, but here's my simple recipe.
Ingredients:
2 cups navy beans
1 meaty ham bone (or 1/2 to 1 cup of ham bits)
1/2 cup of mashed potatoes (instant will also work)
1 stalk celery, finely chopped
1 clove garlic, chopped
3 yellow onions, chopped
2 tablespoons chopped parsley
Directions:
Soak beans overnight in three quarts of water. (Alternately, cook beans for one hour, then proceed with the following).
Add ham bone to beans and cook on medium for one hour.
Add remaining ingredients and cook for one hour, or until beans are tender. Remove bone, serve warm.
Delicious as a side dish or a light lunch. Goes well with corn bread.
Note: Don't leave out the ham bone. It imparts a great deal of flavor, and the small amount of added fat will have a minimum impact on calories.
Also, do NOT salt this soup until it has cooked completely and you have removed the ham bone. There is often enough salt in the ham bone to season it sufficiently.
© Wade Kingston