Yes, this picture of Mom's old-fashioned southern style cornbread dressing and giblet gravy says it all. It just wouldn't be Thanksgiving without it. This is how both my grandmas made their dressing–and how my mother makes it to this day.
You may see variations of dressings from Martha Stewart or Paula Deen, and my friends in Virginia add oysters or chestnuts, but this is the way we always had it growing up–and I wouldn't have it any other way.
It starts with the cornbread (see Grandma's recipe) and don't skimp on it. Your dressing will be only as good as the ingredients. Now, about the biscuits. My mother has always used the canned biscuits, the ones with 8 regular size biscuits. My grandmothers, of course, always made their own biscuits from scratch. My Grandma Hammons made huge buttermilk biscuits in her wood stove. They were works of art and we could make a meal by taking one of her hot biscuits and smothering it in fresh butter and sorghum molasses. But, I digress.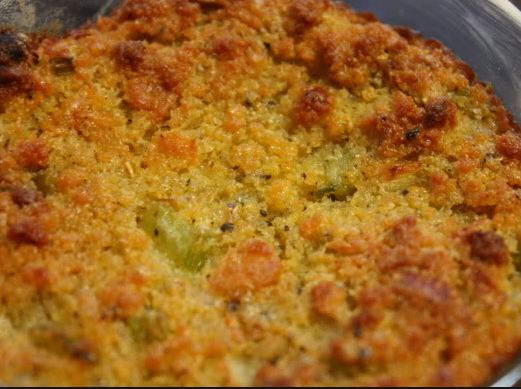 Ingredients for Mom's southern style cornbread dressing:
One large skillet of cornbread, baked and cooled
One pan (8) of biscuits, baked and cooled
One cup of diced onion (small pieces)
One cup of diced celery (small pieces)
2 raw eggs
Turkey broth/chicken broth
Sage (in the can, and do buy a fresh can)
Milk
Salt and pepper
Directions:
Preheat oven to 425° F. In a saucepan add 2 cups of whatever broth you have on hand (broth from the turkey is fine, or canned chicken broth) and add the onion and celery. Cook until tender. In a very large bowl crumble up the cornbread and biscuits by hand. Pour in the cooked celery and onions. Add two raw eggs, and sage to taste. (Some people like a lot, others just a little). Salt and pepper to taste, and add just enough milk to bring the whole thing to a pouring consistency.
Pour dressing batter into large skillets or casserole dishes sprayed with oil. Bake for 25 to 30 minutes, or until dressing is set but not dried out. (I like to broil mine the last couple of minutes to get a nice browning on the top). Remember the breads are already cooked, so you are really just making sure the eggs are done and the whole thing is heated through and set.
Ingredients for giblet gravy:
Turkey or chicken broth
Giblets from inside the turkey (the liver and gizzard)*
Boiled eggs
Cornstarch
Salt and pepper to taste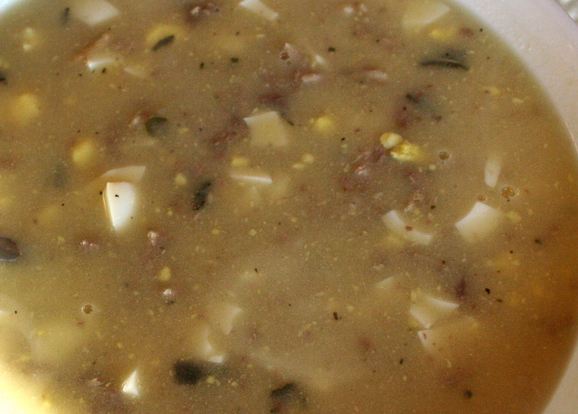 Directions:
Start by cutting up the liver and gizzard (which you cooked alongside the turkey) into small pieces. Add the pieces to a saucepan with two cups of broth (turkey or chicken). Boil a couple of eggs separately and cut them into pieces and add to the meat and broth. Bring to a boil and add enough cornstarch to thicken. The amount of cornstarch will depend on how much gravy you are making, of course. Salt and pepper to taste.
*I know people who don't like the giblets, though that kind of defeats the purpose of making giblet gravy. You can, however, use pieces of turkey meat in place of them if you like.
Pour giblet gravy over the southern style cornbread dressing, just as you would mashed potatoes. A true southern style delight!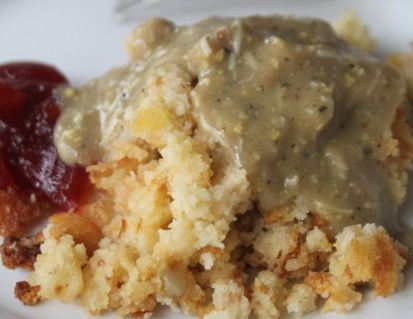 Try this southern style cornbread dressing and giblet gravy if you've never had it. It might just be a new favorite around your house as well.
Happy Thanksgiving!
© Wade Kingston