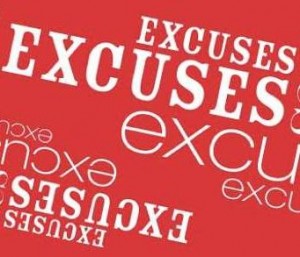 These excuses are actual quotes given me by people when discussing their weight and diet issues.
"When I get ready to lose this fat I'm going to have my stomach stapled." (Or lap banded, or liposucked, etc.) Because it's perfectly natural to have a doctor perform an invasive surgery rather that ask you to push back your plate. Instant gratification can come with a horrible price.
And if there is no pain or sacrifice, have you really altered your eating habits? Are you really lacking in willpower that much? If so, how do you even get out of bed?
"I know of someone who can get me speed." Because that Heroin-chic or meth look is just so attractive. Plus, everyone knows you'll have lots of energy while you are losing. Never mind the effects on your blood, heart, liver, kidneys, teeth, or complexion. That's all just temporary, right?
"I can't exercise because my knees are shot." Your knees are shot because they are hauling around a 325 pound butt, when knees were designed by the Creator to support about half that. Look in the mirror and get real. Give your knees and back a break, why don't you?
"My husband likes me this way." Right. If you have a husband who convinces you to remain overweight (most likely to the detriment of your health) because he says he likes you this way…well, maybe he does love you very much, but how could he object if you wanted to get in better shape or improve your health? If he did object, that would be cause for serious concern. Is he insecure about himself, or afraid you might get attention? It's worth considering.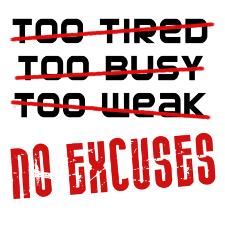 "I've tried every diet under the sun and they don't work." That's actually true. Diets don't work, but well thought out eating plans, coupled with a reasonable amount of exercise DOES work. Stop with the fad diets and get serious. Begin by reading labels. You'll be a pro in no time.
"I don't have the energy for exercise, and I hate it." It's sad but true that a lot of people are in this predicament. But you didn't get where you are in a day, and you won't get out of it in a day. Exercise is really just a habit. You are either in the habit or out of it. Of course it isn't fun to exercise when you are obese, but beginning with even small steps reaps huge rewards. And one small thing can lead to very big results.
"I don't have time to exercise and eat right."  My standard response to this is that we all have the same 24 hours in every day. My former boss made exercise her priority, while I made excuses. She kept herself in terrific shape, and I looked like a big lump of lard. Nuff said. And the next time you are sitting in a drive-through, think about all the time–not to mention dollars–you would have saved if you had just prepared a simple healthy sack lunch.
"I hate water. I don't know how you drink it." I honestly could not tell you how many times I've heard this statement, and it always floors me. I am usually so dumbfounded that I can't formulate a response. Water, our very essence, the thing we must have above all others—above shelter or clothing, above food even—should be our primary source of hydration. Sweetened drinks should be outlawed or come with warning labels. Sorry, but that's how I feel about it. I believe strongly that type two diabetes is running amok in our country because of soft drinks.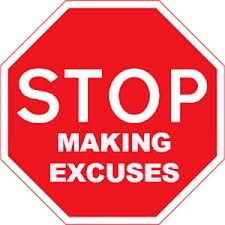 What's the best excuse you've heard?
© Wade Kingston