Wade's spaghetti cheat is just one of the ways I get around not having my cake and eating it too. I love a good plate of spaghetti, but even though I take steps to make the sauce as healthy as possible, there's little getting around the fact that the flour noodles are not healthy. Even the whole wheat spaghetti noodles are less than desirable. My solution? Pour the sauce over steamed broccoli. YUM.
OK, so I love steamed broccoli. I can't imagine I would have lost the weight I have without it. It's my "go to" veggie. I have it just about every day and never tire of it. Your favorite veggie might be something else. For instance, I see a lot of healthy recipes that use spaghetti squash in place of noodles.
Here's the savings when you use broccoli over spaghetti noodles. (And it's delicious).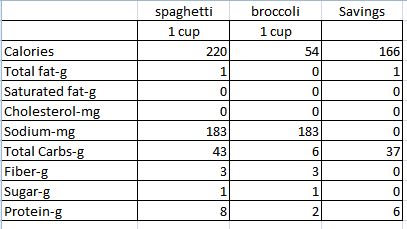 Try substituting veggies for some of those unhealthy foods as you begin your diets.
Who says you have to give up your favorite foods?
© Wade Kingston