Wade's spaghetti cheat number two is the second of two ways to have your "pasta" and eat it too. For those of us trying to trim excess carbs from our diet, pasta seems a likely place to start. Pasta noodles in and of themselves are not unhealthy, but eaten in the portions we consider "normal" they certainly can be.
One of my solutions was to take an idea I found and tweak it until it was delicious and satisfying. But before I give you the recipe, here is the reason for trying it. See chart below, which compares one cup of spaghetti noodles with one cup of roasted cauliflower: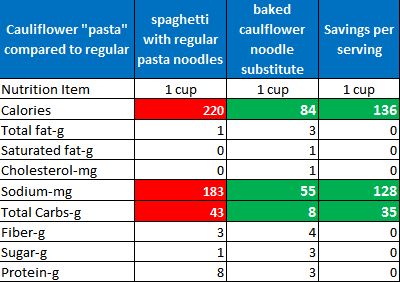 As you can see, the savings on calories, sodium, and carbohydrates are substantial. Add a tomato sauce (or use lean meat in your sauce recipe) and you have a fairly healthy dish instead of a carb-heavy diet buster. (Skip the garlic-butter bread altogether)
Ingredients:
1 large head of cauliflower
3 cloves of garlic minced
2 tablespoons of Parmesan cheese (grated)
2 tablespoons of olive oil
S & P to taste
Instructions:
Spray or lightly oil a casserole dish. Break up the head of cauliflower into small pieces.
Toss the cauliflower in a large bowl with the olive oil and minced garlic.
Spread the cauliflower out evenly in the casserole dish and sprinkle with salt and pepper.
Pop into a 400° F. oven for 20 minutes. (Turn after 10 minutes).
Remove casserole dish and spread grated Parmesan cheese on the cauliflower.
Return to oven set to BROIL and cook just until barely browned. (Watch it carefully as it won't take but a few minutes).
Serve warm with your favorite sauce. Mmm good.
© Wade Kingston