When I worked at the Atlanta Marriott Marquis in Atlanta, one of the signature desserts–wildly popular with guests–was their chocolate macadamia nut pie. It is truly one of those "died and gone to Heaven" types of desserts. And though it may not be easy as pie to make, it's well worth it.
Chocolate Crust
3/4 cup of unsalted butter, room temperature
1/2 cup plus one teaspoon of sugar
1 egg yolk
3 tablespoons heavy cream
1/2 teaspoon vanilla extract
2 cups cake flour
1/4 cup cocoa powder
1/4 teaspoon salt
Filling
4 tablespoons unsalted butter
2 ounces semisweet chocolate
5 eggs
1 cup sugar
1 1/2 cups dark corn syrup
1 teaspoon vanilla extract
2 1/2 cups of halved macadamia nuts
Whipped Cream
1 cup heavy cream (whipping cream)
2 tablespoons sugar
1 teaspoon vanilla extract
Garnish
Two tablespoons of chopped macadamia nuts for garnish.
To prepare crust: Using an electric mixer on low speed, cream the butter and sugar and vanilla together well. Add the egg yolk and cream and mix well.
In another bowl sift together the flour, cocoa and salt. Mix the flour mixture with the creamed butter mixture until well incorporated. Press mixture into a square shape and wrap in plastic. Refrigerate for one to two hours.
Remove the dough from the refrigerator and knead until pliable. Spray a a fluted tart pan with a removable bottom with vegetable oil and roll out dought until about 1/4 inch thick and 12 inches in diameter. Place dough into tart pan. Use your rolling pin to roll across the top and trim the edges.
Preheat the oven to 350° F. Bake the crust for 10 minutes, or just until it starts to pull away from the sides of the pan. (You may want to use dried beans or pie weights to prevent bubbling). Remove from oven and decrease the temperature to 300.
In a small saucepan melt the butter over low heat. Stir in the chocolate until completely melted. In a separate bowl, add the eggs, sugar, and corn syrup together, then stir the chocolate mixture into the egg mixture and mix well. Add vanilla and mix well, then stir in the nuts.
Pour the filling into the prebaked shell. Bake for one hour and 20 minutes or until the center of the pie puffs up but doesn't crack. Cool on a rack, then refrigerate for two hours.
Prepare the whipped cream by combining ingredients and whipping with an electric mixer (or by hand using a whisk).
Unmold the pie by removing the sides and slide it onto a serving plate. Serve at room temperature with whipped cream and nuts as garnish (you could also add chocolate shavings).
Yield: About 8 servings.
Good luck making this delightfully decadent chocolate macadamia nut pie!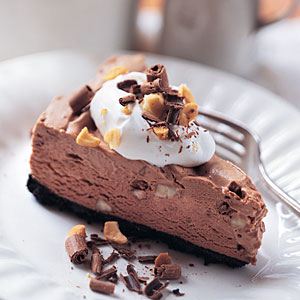 © Wade Kingston