This week I had a two-day yard sale that went fairly well, considering the heat index approached 100 on both days.  Successful yard sales take a bit of preparation, but can be both fun and profitable. There are no hard and fast rules about having a yard sale, but having had many successful yard sales over the years, here is what I would advise:
1-Start early. At least a week before the sale make a thorough check of closets, boxes, and other storage facilities.  Be ruthless.  If you haven't used it in a year, and someone else definitely can, then it is probably a good candidate as a yard sale item.  (see my article on "Top 10 items that sell at yard sales.")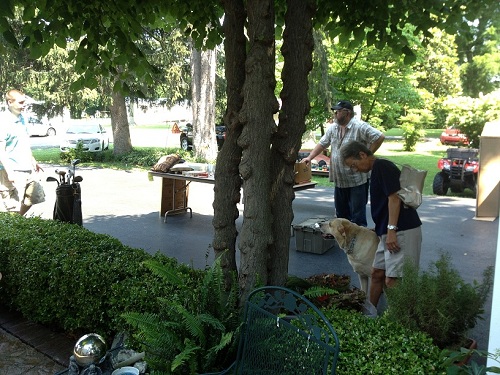 2-Price EVERYTHING.  I do mean all items, because many times people don't want to ask. They are often in a hurry–perusing items quickly on their lunch break or stopping by on a trip across town—and they don't have the time to ask the price for every single item.  I find that masking tape works best for most items, and it won't come off if it's windy.  Just write the price on a bit of tape and attach.
3-Advertise.  Especially if you live in an out-of-the-way location, advertise your sale in the local paper or free papers.  There are people who scour these weekly and love to attend yard sales. Put a specific beginning and ending time along with the date.  Be sure to add "rain cancels" if you intend to cancel because of weather.  Gas isn't cheap, so you definitely don't want people wasting their time and money if the sale is closed.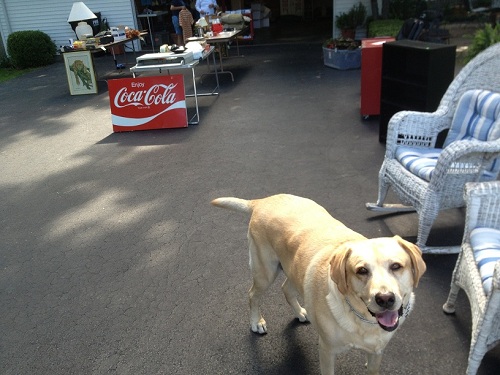 4-Provide easy access.  Move your vehicles out of the driveway.  Mow your lawn as close to the day of the yard sale as possible.  Remove any trash, toys or tools in the vicinity.  Often people will assume they are for sale if you don't.
5-Wheel and deal!  Be flexible if you get an offer, especially on lower-priced items.  It creates good word-of-mouth.  People love to leave a yard sale with a bargain and brag to their friends and neighbors. And besides, do you really want to pack it back up?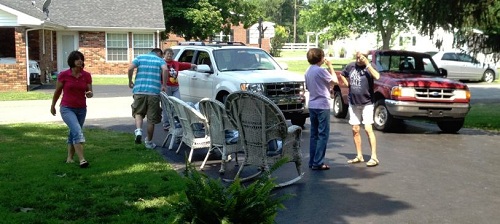 Ten additional things that will help to make your yard sale a rousing success:
Brightly colored signs help people find your sale, but please remove them when it is over.
Fill any potholes and remove any obstacles prior to your sale.
Arrange your items attractively on easy-to-reach tables.  Borrow tables if you have to, or create one by placing an old door or wooden panel across sturdy sawhorses or concrete blocks. Put your tables where they will be seen from the road, if possible.
Buy change at least a day ahead.  Have plenty of one-dollar bills, and a few dollars in coins.  You may even have to break a $100 dollar bill, which has happened to me.
Try to have something for children to look at.  They love to shop too!
Write your items down as they sell.  That way you'll know what sells and for how much.
Consider having cardboard boxes or grocery bags available.  Offer to carry heavy or awkward items for the elderly if you can.
You might need a friend or neighbor's help if you are doing this alone.  (You will need a bathroom break at some point or the phone will ring, etc.)
Keep your pets indoors, if possible. A barking dog terrifies some people, believe it or not. (And some people just don't like animals, though they may not say that to you.)
Enjoy yourself!  People who shop at yard sales generally love a bargain, but they also enjoy being out and around others.  Don't be afraid to strike up a conversation. You might just make a friend as well as a repeat customer.
What experiences have you had at a yard sale?
© Wade Kingston