The following list contains the top ten most-often-sold items at my own yard sales over the past several years.  This is not a scientific study of yard sale data, but is drawn from meticulous listings I have made over a period of several years.  I have listed practically anything imaginable at yard sales, and sometimes the things you think will sell will not, while the things you thought would NOT sell are the first to be snapped up.  There doesn't seem to be any rhyme or reason to it. I live in the Midwest, so of course your list may vary, depending on what people in your area look for most.
Clothing

.  Without a doubt, clean clothing, reasonably priced, will outsell all other items at your yard sale. In my tally of items sold over the past 5 years, clothing outsold all other items by a nearly 3 to 1 margin.  Easiest to sell clothing includes shirts, blouses, pants, shorts, and purses.  Coats and jackets are a tougher sell, primarily because they are pricier.  And for some reason shoes don't sell well at all.  (children's clothing was not included in any of my sales)

Books

.  Used paperback and hardback books sell very well at yard sales.  Fiction from well known authors sells best, but virtually everything from dictionaries to garden manuals sell as well.

Kitchen items

.  Popular items include dishes, pie plates, measuring cups, utensils, gadgets, coffee makers, pitchers, and silverware.  Virtually anything useful will sell if priced reasonably.

Electronics

.  Including old record albums, CD's, stereos, radios, clocks, speakers, VCR's, computers, keyboards, monitors, cords, and even software.

Decorative

.  Wreaths, artwork, gnomes, Christmas trees/decorations, rugs, pillows, vases, China items, silk flower arrangements, cushions, candles, and candle holders will all sell if the price is right.

Furniture

.  Especially chairs, tables, rugs, decorative pillows, and lamps.  Large sofas or sectionals will sell, but do best when listed in the advertisement, as the average yard sale patron is only looking to spend a few dollars.

Household

.  Cabinets, doors, rug sweepers/vacuums, garden and household implements, cleaning supplies.

Antiques

/

Collectibles

.  This is an "iffy" crowd, usually looking for something specific.  But if you happen to draw a Nascar fan and you have a lot of Nascar memorabilia (for example), it's usually a match made in Heaven.

Toys. 

Even if you don't have children, everyone usually has some toys or collectible toys around the house.  Older, antique toys and collectibles sell extremely well if reasonably priced.  Keep in mind, though, that the buyer usually knows the worth of most collectibles and will rarely pay full-price at a yard sale.

Tools.

Tools and toolboxes sell very well. It's a good idea to clean the grime off those tool boxes, and to clearly price the tools, otherwise they sell themselves.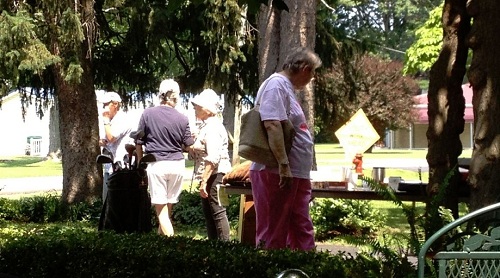 Note that my sales did not include children's items or automotive. Those who routinely sell these items report a fair degree of success.  Also, if you tend to have specific items (or expensive items) to sell, it is best if you specify those items in your newspaper ad.  I will repeat:  The average yard sale attendee is usually looking to spend no more than a few dollars
What items have you sold easily at yard sales?
© Wade Kingston