Paperwhite narcissus bulbs can be found just about everywhere during the holiday season, and this fragrant beauty couldn't be easier to grow.
Paperwhite narcissus (Narcissus papyraceus) can be purchased in many forms. You can buy the bare bulbs (the most economical), or in a box with a cheap plastic pot and some potting medium (a bit more expensive), or already potted and growing (the most expensive). It doesn't take a green thumb to grow them, so opt for the bare bulbs.
If you buy the box set, just follow the simple directions on the package. If you buy them already potted, you need only keep them moist until the flowers fade.
But if you opt for the bulbs, you have several options. These bulbs are grown specifically for "forcing," which means they are best used once during the holidays and then tossed. That's right, I said just toss them out with the garbage, or better yet add them to your mulch pile. (You can plant them outdoors if you want, but don't be surprised if the results are dismal).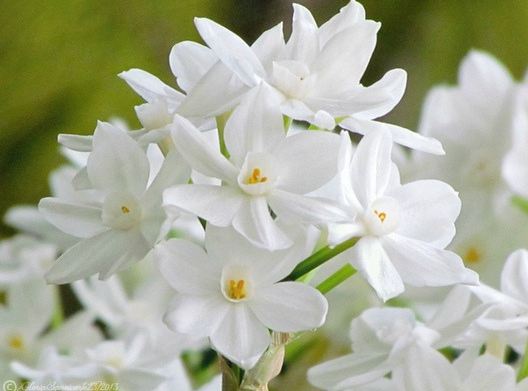 1) Put two or three bulbs in a small vase or lovely glass filled with gravel or sand. Stick the bulbs halfway down into the gravel or sand and water. Place them in a lighted area–a window works fine–and just keep them moist. They will sprout rather quickly and start blooming roughly 6 to 8 weeks after planting. (This will depend on amount of light and heat, which stimulates the plants to grow).
2) You can plant several bulbs in a large pot you already have handy–perhaps one with soil left in it from summer. That will work fine. Same instructions as above.
3) These bulbs can also be grown in nothing but a bit of water also. In fact, if you place a few of them at the bottom of a long, skinny vase and add a bit of water, the roots add quite a bit of visual interest. Of course, the downside is the watering. You'll have to stay on top of it so that the bulbs never run dry–or rot from too much water. Just an inch or so will do.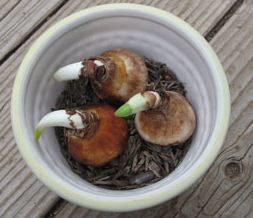 However you choose to pot your bulbs, here are some more tips:
If the bulbs have already begun to sprout–and are crooked–never fear. They will rapidly turn and shoot straight upward.
Once the plants begin to bloom–and if it's too early–move them to a cooler, shadier place in the home to prolong the bloom.
To have plenty of blooms at the right time during the holidays, begin planting at Thanksgiving (or shortly before), and plant a pot every 5-7 days. That way you'll always have a pot coming into bloom clear through New Year's.
The plants naturally turn toward the sun, so to keep your pot of narcissus upright, rotate them each day so that all sides get the same amount of sun.
If they get a bit top-heavy and gangly, simply tie them up with raffia or twine.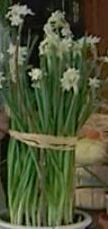 © Wade Kingston