Swedish Meatballs for your Happy New Year! For those who prefer something a bit heartier, that is, rich and creamy, say no more. And have a Happy New Year!
Meatball Ingredients
1 1/2 pounds of ground chuck (or ground beef)
3/4 cups rolled oats (Instant oats are fine)
1/2 cup whole milk
1 egg beaten
1/4 cup minced onion
1 1/2 teaspoons of salt
1/4 teaspoon of black pepper
1/4 teaspoon of garlic salt (or garlic powder)
Directions
Combine all ingredients in a bowl and mix together lightly (try not to compact too much). Use your fingers for best results.
Form into meatballs and brown in a skillet (medium heat). Drain them on paper towels while you make the sauce.
Sauce Ingredients
1 cup of tomato juice
1/2 cup water
1/4 cup of ketchup
1/4 cup of white vinegar
2 Tablespoons Worcestershire sauce
2 Tablespoons brown sugar
1 Tablespoon of paprika
1 teaspoon of dry mustard
1 teaspoon of salt
1/4 teaspoon of chili powder (bump it up if you like heat)
1/4 teaspoon of black pepper
Directions for sauce
Mix all ingredients and pour over meatballs in large skillet. Simmer until sauce thickens and remove to a crock pot or chafing dish. Try to keep them warm for serving.
I think these go well with a nice, hot, crunchy French bread cut into small slices. It helps sop up the sauce. Yum.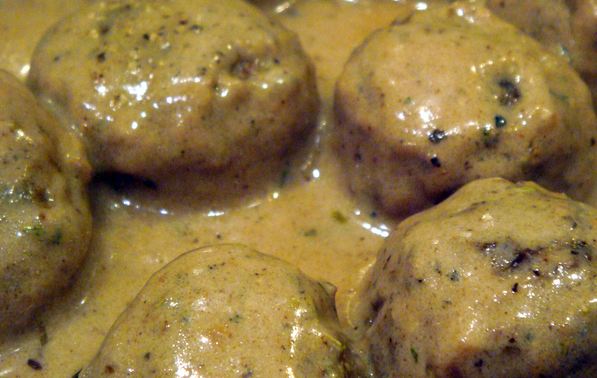 © Wade Kingston