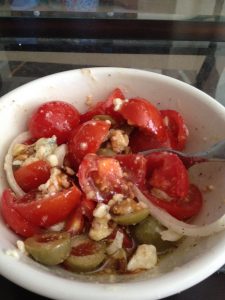 No more humdrum salads.
Are you tired of the lettuce/tomato/salad dressing routine? You know you should eat healthy salads, but you are sick to death of the boring monotony of most concoctions?
Prepare to be amazed–to have your taste buds rocked. This simple summer salad will virtually explode with flavor in your mouth. I guarantee it.
Take advantage of summer's bounty–and the awesomeness of fresh tomatoes. Not only delicious, salads of course have the added benefit of being good for you.
Give it a try. I know you'll love it.
Below are the ingredients for one serving.
Ingredients
10 or 12 fresh cherry tomatoes. (or chunks of regular tomatoes)
1 thin slice of onion–broken into bite size pieces
2 tablespoons of aromatic cheese crumbles–(I prefer Maytag blue or Roquefort, but any blue cheese will suffice. DO NOT skip this ingredient).
1 clove of garlic, finely chopped
3 green olives, sliced
4 walnut halves, broken into small pieces
2 tablespoons of good, high quality olive oil (you can get by with 1 tablespoon)
salt and pepper to taste (easy on the salt as blue cheese and olives are salty)
Simply mix everything in a bowl and eat! Too delicious to describe. Honest.
© Wade Kingston