Some of my fondest memories are of me sitting at my Grandma's kitchen table in her old farmhouse watching her cook, and Grandma's cornbread was a favorite.
Grandma gave birth (at home, during the Great Depression) to twelve children. To say that she knew how to cook would be a massive understatement. To keep her hungry brood fed she made everything from chocolate pie to churned butter, from cornbread to country fried steak–and all of it from scratch.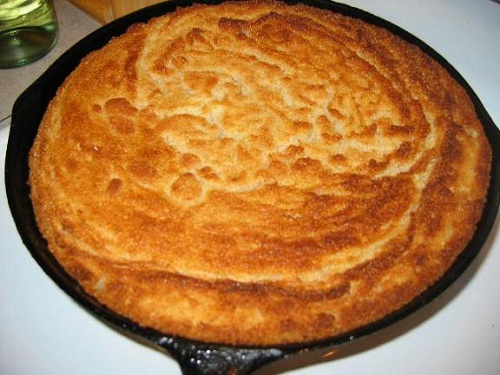 One of my favorite foods (among dozens) of Grandma's was her cornbread. Not too moist, not too sweet, just always perfect enough to eat by itself (though I usually slathered her home-churned butter on it, soft from sitting out on the table).
Unfortunately, Grandma never wrote any of her recipes down.  She just added a bit of this and a cup of that until it looked right. But I watched her enough to know–with some degree of accuracy–that this is how she did it:
Grandma would add a couple of tablespoons of lard (yes, pig fat) to her large Griswold cast iron skillet and pop it into a hot oven. While that was getting nice and hot she added the following to her big McCoy batter bowl.
1 1/2 cups of corn meal (she used white)

1/2 cup of all-purpose flour

1 tablespoon of baking powder

1 cup of milk*

1 egg

Pinch of salt

Pinch of sugar (grandma didn't overdo the sugar)
Grandma lovingly stirred the batter as if she were afraid she would bruise it.  Slowly and steadily, using a big wooden spoon, she would hold the bowl against her chest and smile as she stirred.  Perhaps that's why it was always so good?  It was made with love.
At any rate, the batter was poured into the smoking hot skillet and put back into the hot (450 degree F.) oven.  She would check it at 20 minutes, and leave it in for a few more minutes if it wasn't quite done.
Grandma's cornbread never stuck to her cast iron skillet. The skillet had been seasoned hundred of times and was better than Teflon. The cornbread slid right out onto the plate, ready for one little red-headed ten-year-old boy to eat.
*Whole milk is best, but you can make a flavorful buttermilk cornbread as well. Just don't use all buttermilk, for it tends to make the cornbread heavy. Adding a ratio of 1/3 cup of buttermilk and 2/3 cups of regular milk will give you the buttermilk flavor without all the heaviness. 
© Wade Kingston