A gardener in winter is often frustrated. We know winters can be hard on anyone. But if you ask a gardener how he spends his winters, he'll likely say he's dreaming about spring.
About this time each year, when the days are way too short and the sun often hides behind thick gray clouds, I get a little bit of the winter blues. I'm not talking about SAD (Seasonal Affective Disorder) necessarily. I just miss the warmth and greenery of spring and summer. I don't mind the cold so much and I still get out in it. Walking or jogging in cold weather can be downright exhilarating–and much less sweaty than in the heat. But brown grass and leafless trees just don't do it for me. All that brown and gray eventually wears me down. That's when I begin to think about growing something–anything.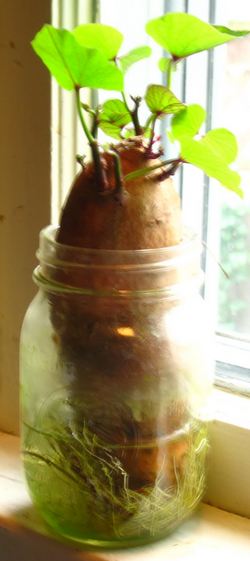 I remember my grandma growing sweet potato vines in her kitchen window. Or sprouting an avocado pit. Or rooting a piece of African violet to share with a friend. Just anything to get that sense of growing something. That's what gardeners are all about. We just want to grow something. To see it sprout, send forth roots, and reach upwards to the sun. It's in our DNA somehow. We yearn for sunny skies and warm weather just like plants do.
When I had my small greenhouse I practically lived in it during the harshest winter months. Not only did it warm up nicely–especially on sunny winter days–but I could get in there during January and February and plan for spring. I added a small heater, which provided just enough heat to keep everything above freezing at night. I could sow flats of seeds well ahead of the warm months. And as every gardener knows, seeds are tremendously cost-effective. I prefer raising plants from seeds over buying seedlings. Nothing beats the satisfaction of taking, say, tiny tomato seeds and following through the sprouting, growing, flowering, and fruit production. The entire life cycle in less than a year.
But if you aren't fortunate enough to have a greenhouse you can still get a jump on spring. All you need is either a sunny window or a good strong source of light. It can be a grow lamp or just a regular strong light bulb. Of course, the sun is and always will be the best source of light for plants. It is, after all, the light they've evolved to use. We can't exactly duplicate it with bulbs. But don't deprive yourself of the joy of gardening simply because you don't have a sunny window.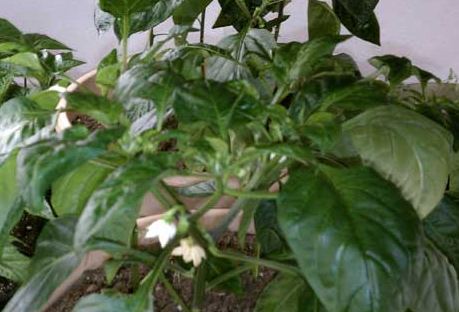 I recall as a child saving my milk cartons from school. (Do they still have those half-pint milk cartons?) I would cut the tops off and fill them with dirt and plant the seeds I had saved from the fall. It wasn't an ideal container. It was designed to keep moisture inside, of course, so I often had to deal with mold or mildew on my young plants. There also wasn't very much room for the roots to spread out.
But a few years passed and I discovered the "magic" of peat pots. You know, the ones that expand tremendously when soaked in water for a few minutes. They make perfect little pots which hold just the right amount of water in the "soil" (actually peat). The roots also have someplace to spread to, as they can easily penetrate the flimsy outer covering of the peat pots. A big bonus is that they are fairly cheap. I still use them to this day, for transplanting young plants grown in peat pots is a no-brainer. You just dig a hole, put them in it, cover and water well.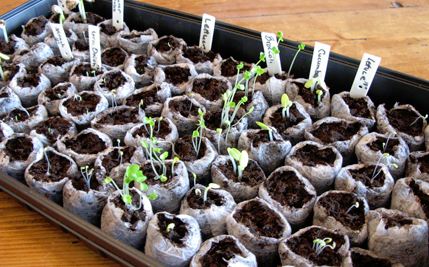 The best plants to begin with in the winter are those with a longish growing period. You don't want to begin tomatoes in January, for they will be ready for planting outdoors in six to eight weeks, and it won't be warm enough yet. Not around here, anyway, in western Kentucky. Wait on sowing those tomato seedlings until early March. The same goes for many vegetables–like the squash family, peppers (hot or sweet), or cucumbers. It's good enough just to give them a head start. You don't want them to get so big they fall over before planting.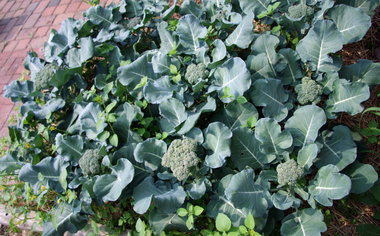 And some vegetables–I'm thinking carrots, corn, and beans–do best when planted right in the soil. They just don't do as well when transplanted.
But don't forget your annual flowering plants–the ones you grow for bouquets. Some of them can be planted fairly early, even in January or February. Some of the biennials, like Foxglove and Hollyhock, can actually be induced to bloom the first year if you start them in January and coax them along. Get them transplanted outdoors while it's still rather cold, as they are very hardy. They'll establish themselves quickly as soon as it begins to warm, and more likely as not reward your early planting with blooms.
There are a number of flowering plants that can benefit from late-winter sowing. I'm thinking chrysanthemums, snapdragons, coleus, pansies, vines, and even petunias. Snapdragons and sweet peas especially like the cool weather.
I've talked myself out of my plant-less gloom now. I'm going to find me some seeds and a few peat pots.
© Wade Kingston