Paducah has its share of chain type restaurants, as well as fancier eating establishments. Many of them have good food and service. But it also has a number of laid-back, down-home eating places near and dear to my heart. Here are five: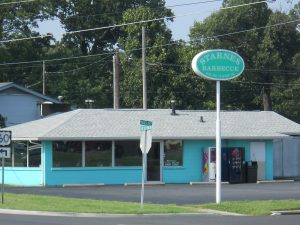 Those who love barbecue love to argue about which restaurant is best. I know there are other barbecue restaurants in Paducah that have their die-hard fans. I've eaten at all of them and I agree we are blessed with some really good choices. But Starnes simply has the best tasting, most consistent, and most affordable BBQ sandwich in town. And to top it off, its simple yet friendly bar-stool interior makes it feel like you are having lunch in your best friend's kitchen. Starnes Barbecue 1008 Joe Clifton Dr  Paducah, KY 42001  (270) 444-9555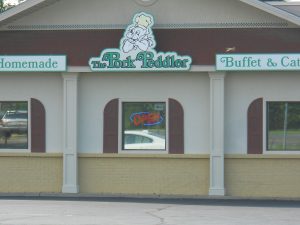 The Pork Peddler Restaurant has some of the most amazing home-cooked food you will ever taste on a buffet. Expect to find any and everything your grandma might have served for Sunday supper. Fried chicken, fish, ham, too many veggies and salad options to list…all washed down with terrific iced tea and topped off with those amazing cobblers. A bit pricey, but worth it.  Pork Peddler 701 N 8th St  Paducah, KY 42001 (270) 442-7414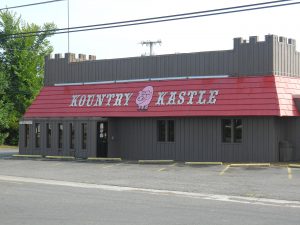 The Kountry Kastle is a barbecue/bar and grill restaurant with a large menu of burgers, fries, hot dogs, baked beans, and chili–just to name a few. OK, so it's dark inside and the menu tends to be on the greasy side, but the beer is cheap and the staff is friendly. Very affordable to boot. Kountry Kastle 3415 Clarks River Rd Paducah, KY 42003 (270) 443-9978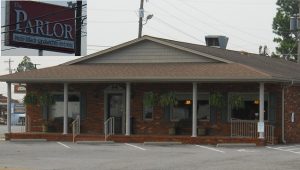 There's a tasty little place in Lone Oak that's sure to please. Yummy burgers, fries, spaghetti, pork chops…and a pizza and salad bar second to none. Someone recently drove right into the building–though it was quickly repaired. Personally, I think he was just in a hurry to get some of those homemade cheese sticks. The Parlor 3033 Lone Oak Rd  Paducah, KY 42003 (270) 554-3707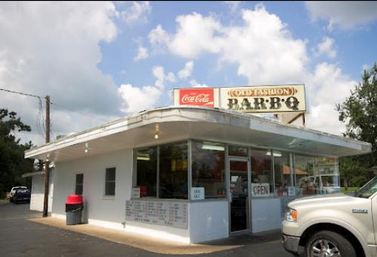 Last, but certainly not least of the five, is Harned's Drive-In. Delicious barbecue and old-fashioned cheeseburgers and cherry coke. Those amazing crinkle-cut fries, and onion rings, and crispy tasty chuckwagon sandwiches. It's a real taste of the past. I challenge you to pull up and not get waited on within 30 seconds, even on the busiest of days. Or step inside and step into the past, for changes come very slowly here. They still do things the old-fashioned way–great food and service with a smile. Harned's Drive-In 4421 Clarks River Rd Paducah, KY 42003 (270) 898-3164
Five tasty places, though that certainly isn't all that Paducah has to offer.
What are your favorite Paducah eateries?
© Wade Kingston