Got leftover mashed potatoes on hand? If not, you may want to make extra next time just so you can add these few ingredients for a delicious and creamy potato soup.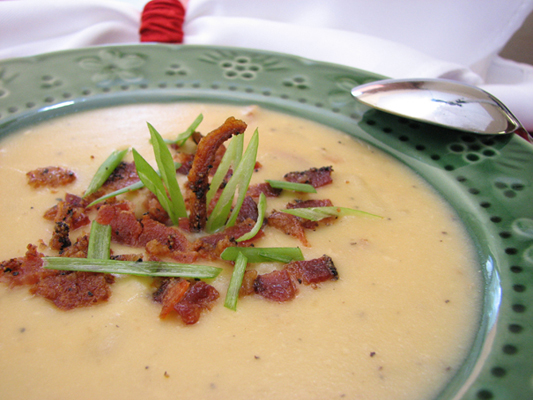 Ingredients:
8 slices of bacon, cut into pieces
1 small onion, chopped
2 cups of mashed potatoes
1 can of condensed cream of chicken soup (cream of mushroom or celery will also work)
2 cups of milk
salt and white pepper (black pepper will also do) to taste
2 tablespoons parsley (preferably fresh)
Directions:
Brown bacon pieces until crispy. Drain and set aside. Add chopped onion to the hot bacon drippings. Cook for three minutes, then drain off oil.
In a large saucepan set on medium heat, mix the mashed potatoes and soup together, then add milk gradually, stirring constantly. Add remaining ingredients (set aside a few bits of bacon for garnish) and stir until heated through or it just begins to boil.
Note that you may want to further "cream" your soup by adding a cup or two at a time to a blender and blending until silky smooth. This is a tricky step, so to avoid getting burned, never fill your blender more than halfway with hot liquid, and hold the cover down tightly as you blend.
© Wade Kingston