Chicken Piccata is smooth, rich, tender, and terrific. It's also a little bit tart, a little bit salty, and completely satisfying. Chicken Piccata takes comfort food to a whole new level of deliciousness. I got this recipe from a chef I know. After tasting this chicken I just had to know how to make it. I think you'll agree. See my warning, though.*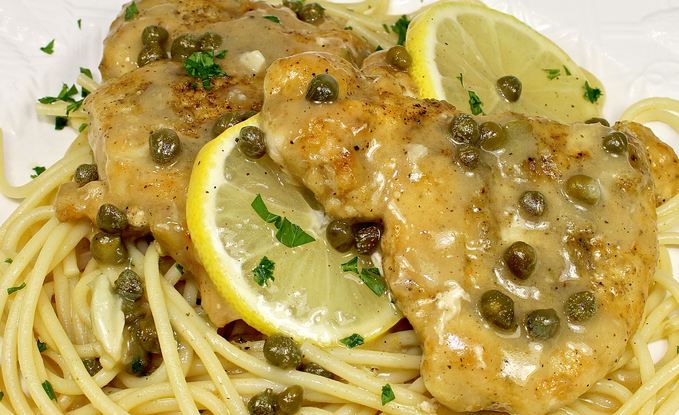 Ingredients
4 boneless and skinless chicken breasts
3-4 lemons (4 if small)
2-3 tablespoons of lemon zest
2 tablespoons of fresh chopped flat-leaf parsley
2 tablespoons of capers (don't skip these)
1 stick of butter (salted or unsalted)
1/2 cup of olive oil (or other vegetable oil)
1 cup of flour (any kind)
1 cup of white wine, (an inexpensive Chardonnay is perfect–DO NOT SKIP the wine and DO NOT USE cooking wine or sherry)
salt and pepper
Directions
First things first. Do your prep-work by measuring everything out. Zest the lemons first (it's just easier) and when you have 2-3 tablespoons of zest, juice the lemons. You'll need about a half-cup of lemon juice. The lemon taste should be almost subtle, so don't overdo the lemon juice.
Cut the chicken breasts into pieces roughly 3″ x 3″. You can go smaller or larger–don't sweat the size. Place each piece between two sheets of plastic wrap and pound the heck out of it until it's thin and barely holding together. (For this reason I suggest the chicken be very cold, almost frozen works perfectly).
After flattening all the pieces of chicken (the hardest part of this recipe), lightly salt and pepper each side of the chicken pieces and dredge in flour. Place them all on a plate while you prepare the pan.
In a large skillet (again, cast iron works perfectly, but non-stick is also nice) place half of the butter and a quarter cup of oil and heat just until slightly smoking. Place the chicken in a few pieces at a time and fry until golden brown on each side. It won't take long, remember the pieces are very thin. DO NOT OVERCOOK. Overcooking is the biggest mistake beginners make with this recipe. They should be tender–not crispy.
Remove the chicken pieces to a platter as they get done. Add more butter and oil as it gets absorbed, and continue cooking pieces until they have all been cooked.
After you have cooked all the chicken, de-glaze the pan with the wine. All the little tasty bits should come loose in the wine. Reduce the wine on medium heat for two minutes, then add the chicken back to the skillet, pour the lemon juice over it, add the chopped parsley and capers–spread a few slices of lemon over it for good measure and cover. Let it steam in the juices for another two minutes.
Remove from heat and transfer to a large serving platter. (You can serve over spaghetti if you like. After all, this is an Italian dish.)
Serve warm. The gravy is perfect on the chicken or as an added treat over mashed potatoes.
*When you find yourself making this again and again because YOUR FAMILY DEMANDS IT, don't say I didn't warn you. Maybe you can enlist their help with the pounding. Make it a fun thing.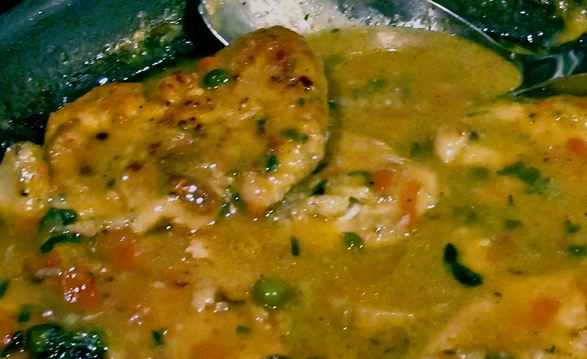 © Wade Kingston