Cherry Delight with ThreeTwists. Most cooks know how to make this cold, creamy, rich dessert. But of course I have to tinker around with recipes until I make them a bit better.  (In my humble opinion, that is).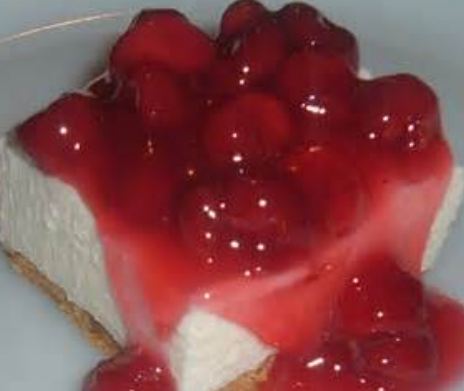 Let me say right off the bat that I'm posting the easy version. But by all means, if you have the time and energy, please make the pie crust yourself. The difference between bought and homemade is night and day. (I'm including the recipe, just in case).
This no-bake pie is a breeze to make. There are three things I do differently from most recipes.
I don't use sweetened condensed milk. I think it makes the pie too runny. And too sweet.
I add lemon juice. It just amplifies all the other flavors.
I add a layer of chopped pecans. Trust me, it takes it to a whole new dimension.
Bought pie crust is easy. Just pick up one graham cracker crust pie shell at the store.
Or, make your crust this way:
In a bowl, combine 1 1/2 cups of ground graham cracker crumbs, 1/3 cup of sugar, and 6 tablespoons of melted butter.
Press into an 8 or 9 inch pie plate and bake at 375° F. for 7 minutes. Cool, then chill in refrigerator for one hour. That's it. Easy peazy.
Now for the good stuff (filling):
Ingredients:
2 packages of cream cheese
1 cup of powdered sugar
1 tablespoon of lemon juice
1/2 cup of chopped pecans
1 can cherry pie filling
Whipped cream (optional)
1 graham cracker crust pie shell
Directions:
Let cream cheese come to room temperature (or soften according to package directions in microwave). Stir in lemon juice and powdered sugar until well mixed. You may add more powdered sugar at this point if it isn't sweet enough for you, but be careful. I actually find that the very sweet cherry topping to be more than enough sweetness in the pie.
Spread cheese mixture into your prepared (and cooled) pie crust. Top with a layer of pecans. Chill for at least one hour.
This pie may be refrigerated for several days. I actually find that it tastes better after a couple of days.
Enjoy.
© Wade Kingston