My cactus finally bloomed, after only 16 years of waiting.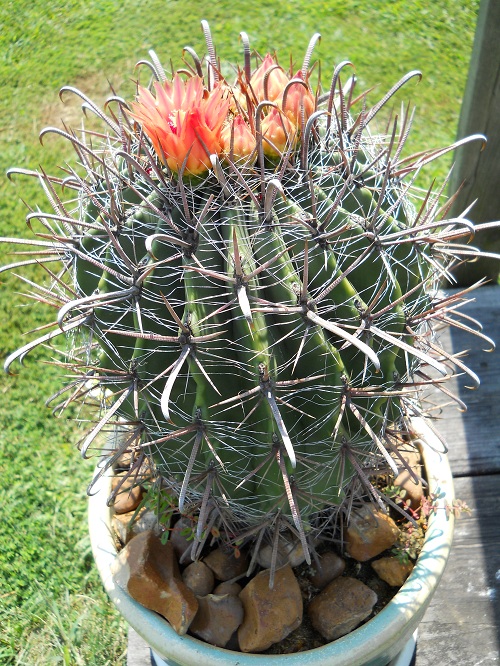 Sixteen years ago, as I raided the seed package carousel at the local Walmart, I came upon one package entitled "Desert Cactus Plants."  It had a photo of various types of cactus, none of which I was familiar with.  We don't see many cacti here in the heartland, just an occasional patch of those big ugly flat types with the yellow blooms atop them in summer.  I think they are called "Prickly Pear," and people put them in dry, rocky places here.  I'm surprised they don't rot.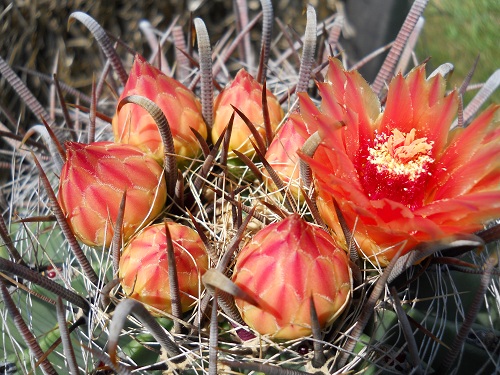 Anyway, I bought the seed packet and followed the instructions.  A few weeks later I noticed I had several tiny—and I mean tiny with a "t"—cactus seedlings in the sandy pot.  I nurtured them all that year and one by one they all died, until I was left with one single plant.  I put it in its own pot and pretty much protected it from all the rainfall we get around here by planting it in a mix of gravel of sand—no saucer under it, of course.
And it lived.  And it grew—slowly.  Over the next decade, as I moved around the country, I hauled it with me wherever I went.  I got jabbed by the incredibly sharp thorns on many occasions. More than once it was almost left in a dumpster.  Eventually I grew attached to my cactus.  It was hardy and it wasn't demanding.  And after it grew to several inches in height I could identify it (I think) as a barrel cactus.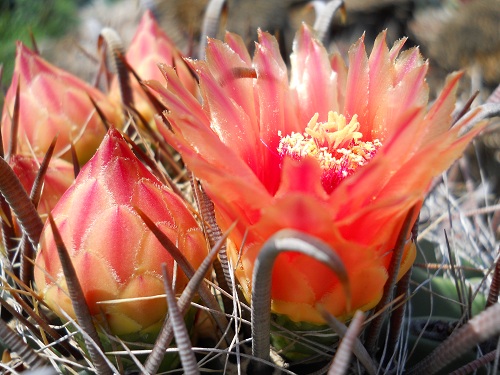 Then, three years ago in early summer, I noticed tiny orange nodules popping up on top of the cactus barrel.  And within a few weeks these buds had developed into lovely blossoms, which lasted for several weeks.  It has bloomed every summer since.
© Wade Kingston