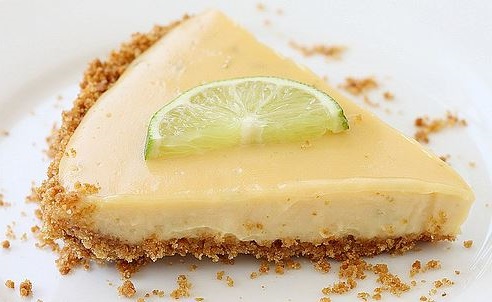 I just returned from a long stay in Florida, where of course I had to try several versions of delightfully cool Key Lime Pie. Key limes are also known as Mexican or West Indian limes. If you can't find them in your area, substitute bottled Key lime juice. This recipe is modified from the classic one found on many condensed milk and Key lime juice labels. There's more lime juice in it!
Key Lime Pie Recipe
Makes 8 servings
For crust
1 1/4 cups graham cracker crumbs from 9 (2 1/4-inch by 4 3/4-inch) crackers
2 tablespoons sugar
5 tablespoons unsalted butter, melted
For filling
1 (14-ounce) can sweetened condensed milk
4 large egg yolks
1/2 cup plus 2 tablespoons fresh or bottled Key lime juice
For topping
3/4 cup chilled heavy cream
Make crust:
Preheat oven to 350°F.
Stir together graham cracker crumbs, sugar, and butter in a bowl with a fork until combined well, then press mixture evenly onto bottom and up side of a 9-inch (4-cup) glass pie plate.
Bake crust in middle of oven 10 minutes and cool in pie plate on a rack. Leave oven on.
Make filling and bake pie:
Whisk together condensed milk and yolks in a bowl until combined well. Add juice and whisk until combined well (mixture will thicken slightly).
Pour filling into crust and bake in middle of oven 15 minutes. Cool pie completely on rack (filling will set as it cools), then chill, covered, at least 8 hours.
Make topping:
Just before serving, beat cream in a bowl with an electric mixer until it just holds stiff peaks. Serve pie topped with cream.
© Wade Kingston